About the Book FROGMEN
In his personal account of expeditions with legendary French explorer Captain Jacques-Yves Cousteau and the crew of research vessel Calypso, Richard Hyman takes us behind the scenes, inside the ship, and under the sea.
In 1973, at the age of eighteen and just out of high school, he drives a truck from Los Angeles to the Canadian wilderness to work with Cree Native Americans building a cabin for the Cousteau team to winter in and film beavers.
Subsequent journeys include diving in Florida's warm springs with manatees and off the panhandle with stone crabs. Months later he flies to Mexico's Yucatán and boards the Calypso, a relatively small and unsteady wooden ship, and camps on an uninhabited island to study lobsters. From there he sails south along the 180-mile Belize Barrier Reef, filming the spawning of thousands of grouper and a visit from singer songwriter John Denver. In 1979, on his final voyage, from Norfolk, Virginia to Venezuela, he experiences treacherous dives on the USS Monitor shipwreck off North Carolina, the death of Philippe Cousteau, and skeletons inside deep wrecks off Martinique.

FROGMEN is an inspiring true adventure of a young man who pays homage to one of the greatest explorers and visionaries of all time.
Cousteau was a two-time Academy Award winner, received 40 Emmy nominations and created 100 films. He also invented the aqua-lung. There are currently 20 million certified SCUBA divers in the world with another million certified every year.
John Denver wrote "Calypso", a hit that went gold worldwide. U.S. fans have bought more than 10 million copies of his Greatest Hits album, containing Calypso, the most in RCA history.

Stories about life aboard Calypso with Cousteau, once one of the most recognized names in the world, should interest all age groups and both genders of the general public, particularly adventurers, Denver fans, divers, environmentalists, photographers, travel buffs, and videographers.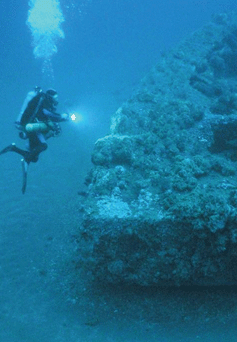 Photo Credit: Mariners' Museum